Were You Injured At work?
Worker's compensation in Pennsylvania is managed by the Department of Labor and Industry. When an employee is injured at work, they will typically report the accident to their supervisor, then seek medical care. Most Human Resources departments will provide the claim forms an injured employee needs to file a claim. The Department of Labor and Industry also has the forms available online in the case an employer does not have the forms or is not willing to provide them.
Worker's compensation is a no-fault policy and is not used to punish an employer for causing an accident. A worker who accidentally causes an injury to themselves generally will not be denied coverage. Neither party has the option to sue the other, and no damages for pain and suffering can be recovered.
Experience Counts
Worker's compensation pays injury-related medical bills, including physical therapy and take-home devices, and covers lost wages when a worker is unable to keep working. Worker's compensation also can cover funeral costs in the event a worker is killed.
Doctor's visits are an essential element of worker's compensation claims. A doctor must diagnose an injury before a worker's compensation coverage can begin.
Hiring a personal injury lawyer to help you with your claim is a smart decision. Attorneys that handle accident claims that happen at work can make sure your claim is filed correctly and handled properly. A worker's compensation lawyer ensures you get the benefits you deserve. Award amounts to employees who have representation may be as much as fifty percent higher than were they to go without an attorney.
Workplace Injuries
Workers Compensation (also called workman's comp) is a type of aid given to an employee when they become injured or ill on the job.
It is also used to cover the funeral costs and additional expenses a family may face if their loved one dies on the job or from an accident or illness resulting from it. It may or may not be the employers fault. The benefits you receive cover medical expenses incurred due to the injury or illness as well as compensation for lost income.
Anyone who suffers from a sudden accident like a slip or fall may be eligible. Injuries due to stress and strain, like carpel tunnel syndrome, are also covered by workers comp in many cases. Illnesses caused by the work environment are also covered by workers compensation. Eligibility requirements for various types of injuries and the kind of compensation you can receive for them vary by state. If you have questions about your state's laws and policies you can contact it's workers compensation office directly via the US department of labor website
Am I eligible to receive workers compensation ?
More than 2.8 million Americans were injured at work in 2017, and 5,147 injuries were fatal. Many of these accidents were preventable. When we go to work for someone else, it is expected they provide a safe workplace. Unfortunately, workplace accidents will injure about four of every 100 employees each year.
Most businesses in Pennsylvania are required to carry Worker's Compensation insurance intended to cover the necessary medical needs of workers who are injured while doing their job. The system is designed to provide aid without placing blame, and federal laws prevent employers from preventing employees from filing claims and from retaliating against employees who are injured.
Claims for injuries that happen at work should be handled quickly through the Pennsylvania Department of Labor and Industry, ensuring the long-term health of employees. The worker's compensation system is supposed to function as swiftly as possible, but for a variety of reasons, this is not always the case.
If you or someone you love is injured at work, you should discuss your case with an experienced workers compensation lawyer.
Why Do I Need a Lawyer?
The personal injury attorneys at the Law Office of Joel J. Kofsky have helped thousands of Pennsylvanians file claims, get the medical care they need, and ensure their rights and the rights of their family are protected when dealing with work-related injuries.
All too often, injured employees do not get the full extent of care and benefits they are entitled to receive because they are not familiar with the laws, are in too much pain and don't know who can help. Contact one of the expert workplace accident lawyers at the Law Office of Joel J. Kofsky and get the help you need without the stress and worry.
Despite federal law requiring most businesses to hold coverage, some do not purchase insurance or allow their policy to lapse. When a worker is injured and an employer does not have coverage, it is imperative that you contact the worker's compensation lawyers at the Law Office of Joel J. Kofsky at once. Your rights are in jeopardy and a slip, trip and fall attorney will know how to make sure you get medical assistance and financial compensation for lost time at work when your employer is not covered by worker's compensation coverage.
Workplace Injuries Covered by Worker's Compensation Coverage
Lots of types of injuries happen at work every day. Ranging from minor accidents, like a slip and fall that causes a sprain, to much more serious accidents. An essential element of any worker's compensation claim is that you must show how you were injured, which means that you must see a doctor or physician. The laws regulating workplace injuries are complex and vary based on many factors. Accident attorneys that specialize in workplace injuries can help determine the best course of action to ensure you and your loved ones are protected.
Workplace Slip and Falls
Workplace Slip and Falls Among the most common accident experienced nation wide, slip, trip and fall accidents can be extraordinarily painful and even fatal. In 2016, American workers reported nearly 240,000 slip, trip and fall accidents that caused injuries. Eighteen employees working in the education and health services sector were killed in falls that year. Even a minor slip, trip or fall accident at work can have major consequences.
In most cases, an employee injured at work due to a slip, trip and fall accident can get worker's compensation coverage. Unlike many areas of personal injury law, worker's compensation claims do not require the injured person to prove that the accident could have been prevented but for someone's negligence.
Workers compensation is supposed to treat slip, trip and fall accidents quickly and without blaming either the employee or their boss. Because of the speed at which worker's compensation claims for slip, trip and fall accidents can be resolved, injured workers may find they are not compensated for injuries that do not show up immediately.
An experienced slip and fall lawyer will know how to make sure an injured employee gets the immediate and long-term care they are entitled to receive.
If you were injured in an accident at work and your claim has been rejected, it is important to contact a slip, trip and fall lawyer at once before you lose access to benefits.
Sprains, strains and tears to soft tissue and ligaments are the most frequent injuries suffered by employees that slip, trip and fall at work. These injuries may take hours or even days to become painful enough to warrant a doctor's visit, and often will not heal without proper bracing and physical therapy. A trip and fall attorney will make sure that physical therapy is covered for long enough a time period to ensure the injury will heal completely.
Head injuries, like concussions, are also common in trip and fall accidents. Even a minor blow to the head can have long lasting impacts that often don't show up right away. Concussions can take hours to present significant symptoms, and they can result in bleeding in the brain and blood clots that can be fatal.
Falls at work can cause broken bones, a leading cause of fatal work injuries. Even a short fall can kill, and older employees are at a much higher risk of suffering broken bones in a fall at work.
Injuries to the spine are also common in slip and fall accidents. Damage to discs, muscles and ligaments can be permanent and life-altering results of a slip, trip and fall at work. Employees in construction and trucking industries are at a higher risk of these types of injuries, but many spinal injuries also happen to white collar employees.
Estimates are that slip, trip and fall accidents at work are among the most underreported of all workplace accidents. Often, employees fear retribution or are embarrassed, and choose to live with the pain rather than file a claim. Most of these injured workers lose the right to worker's compensation benefits as a result, and must live the rest of their lives in pain.
Procedural errors are the most common reason slip, trip and fall accident claims are rejected by worker's compensation insurance companies. Often, forms are incorrectly filled out or incomplete, proper medical attention has not been sought or employees wait too long to file a claim, leading to rejection of a claim.
You may also be rejected if you were on drugs or alcohol, engaging in horseplay or violating a company policy. If a worker's compensation claim has been rejected for one of these reasons, and you believe you can prove why your claim should be accepted, slip and fall lawyers can offer advice on how to proceed.
Slip, trip and fall attorneys that understand employment law and the worker's compensation system will get the appropriate medical care an injured worker needs and make sure the procedural steps are completed correctly, preventing lack of coverage, lost time at work and a life of suffering.
Car Accidents at Work
Employees who are required to drive for work are covered under worker's compensation in the event they are involved in an accident. Worker's compensation claims arising from car accidents are frequent in delivery and taxi cab jobs, but also happen when running errands for work or driving between two locations while on the clock.
Repetitive Motion Injuries (RSI)
Workers that must do a physical task over and over, all day are at a high risk of developing repetitive motion injuries, and these are usually covered under worker's compensation coverage. Common areas of injury are the major joints; shoulders, elbows, wrists and hands, also hips, knees, back and torso, and ankles and feet.
Jobs that involve lots of typing tend to result in damage to wrists and elbows. These types of injuries can develop in months, but often take many years to show symptoms. Surgery is common to correct the issue, and some loss of strength is likely.
Jobs that involve stooping, bending and lifting can cause repetitive injuries, also. Herniated discs in the spine can be caused by repeated lifting activities, and in some cases, these cannot be repaired without extensive surgery that can be crippling. Even jobs that are sedentary can cause repetitive motion injuries to the spine. Improper sitting posture for extensive periods of time puts pressure on the discs in the spine and can result in a herniated disc.
Repetitive motion injuries are commonly caused by inflammation of tendons, which connect muscle to bone and allow for motion. Symptoms of repetitive motion injuries can include numbness, burning sensations, sore muscles and sharp tingling. In serious cases, permanent nerve damage results in a total loss of feeling in certain areas.
Worker's compensation will cover repetitive motion injuries that are caused by one's employment, and will cover flareups and new injuries to old injuries that have been treated and healed. Worker's compensation will not cover a preexisting injury.
A worker's compensation lawyer with experience handling repetitive motion injuries can make sure you or your loved one gets the appropriate care for the injury, and protect your rights. In some cases, repetitive motion injuries may force the injured employee to change jobs, or even careers.
Workplace Violence
Workplace violence can happen in many ways, but employees who are injured because of another employees violence is covered by worker's compensation. Most often, workplace violence involves disputes between two or more employees. More rare is disgruntled employees who have been terminated returning to exact revenge. These cases can be particularly complex and a personal injury attorney should be contacted immediately if you are injured by a violent employee.
Worker's compensation is intended to be streamlined and straight forward, quickly and efficiently resolve injuries that happen to employees. A personal injury lawyer can help ensure your claim is filed correctly, and if you have been rejected, can help get the benefits you deserve.
Illness and Exposure (Toxic Substances)
Some people are sick of their jobs, but some jobs can really make you sick. Many jobs today involve working with and around dangerous chemicals that can cause a wide array of illnesses. Chemical burns are common, often painful and can be disfiguring. Many chemicals are gaseous, and exposure damages lungs, airways and the throat.
Toxic mold can cause severe respiratory ailments, weakness and fever, and can be undetected for a long time. Often, mold will grow inside walls, under cabinets and in ceilings.
Exposure to some chemicals, like anhydrous ammonia which removes the air from your lungs, cause an immediate reaction. Others, like hydrofluoric acid which breaks down calcium, may take minutes or hours to show symptoms.
Many chemicals that cause damage to the lungs and airways may not show symptoms for many years. When symptoms do arise, a large number of cases involve a cancer diagnosis. Asbestos is a well known chemical that has been found to cause throat and lung cancers.
Burns suffered at work generally are covered under worker's compensation. People who work in kitchens are most at risk for work-related burns, and a significant number of cooking-related burns at work are not reported.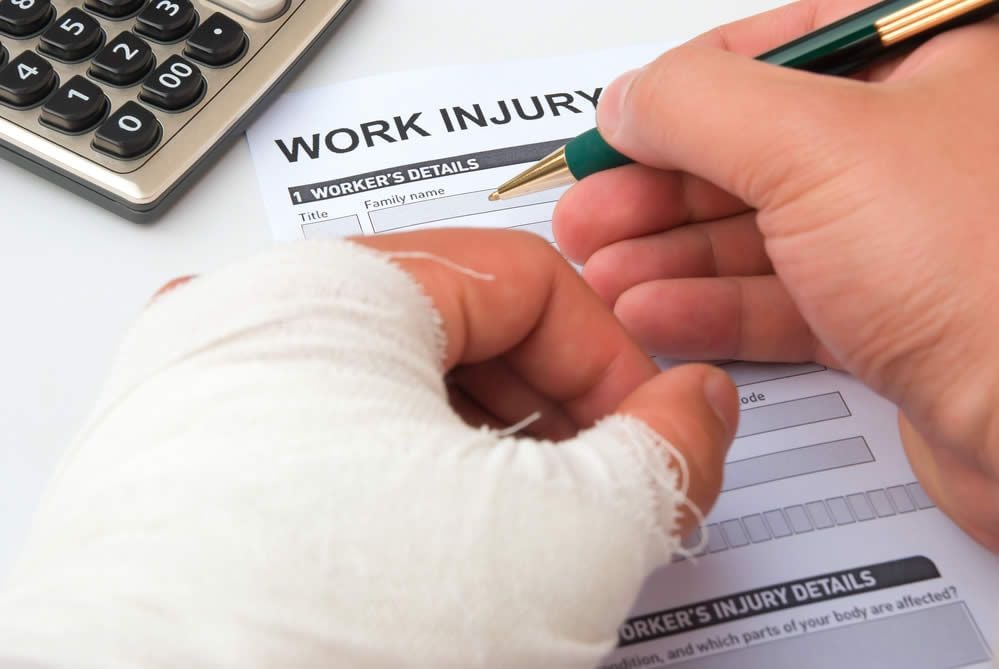 Exposure to stress at work can cause a wide range of mental problems, from temporary symptoms to long-term problems that require extensive treatment. Stress-related illnesses can cause a severe drop in physical activity, aches and pains, disintrested attitude and many other harmful behaviors. Stress has been shown to cause acne, increased risk of heart attack and stroke, and the development of obsessive behaviors, such as overeating. Mental illness from exposure to stress is increasingly recognized as a workplace injury, but can still be difficult to prove.
An attorney that handles work-related injuries from exposure and illness can help file your claim successfully or examine other options to recover medical costs. time limits on filing can sometimes affect a claim being accepted.
Things that can Wrong with a Workers Compensation Claim
Worker's compensation claims are frequently rejected for failing to file within the statute of limitations. In most worker's compensation claims, the injured employee has two years to file. While this seems like a long time, many injuries do not show symptoms for a long time, and diagnosis can take weeks or even months. As soon as you believe you have been injured, you should report the accident to your human resources department or your immediate supervisor.
Some claims are rejected because injured worker's refuse medical care, or the medical evaluation was inconclusive. If an injury cannot be demonstrated, worker's compensation will not accept the claim.
Frequently, claims are rejected because the injured employee was using drugs or alcohol at work. Marijuana, opioid painkillers taken without a prescription or improperly and amphetamines are common drugs tested for when a worker is injured. Usually, a claim will be rejected if the injured worker is consuming alcohol at the time of the accident. Drinking as part of work can void this exemption, but that is a rare case.
Horseplay at work that results in an injury will not be covered by worker's compensation. Horseplay is fairly vaguely described as 'rough play', and in some cases, workers injured as a result of horseplay that was part of the culture of the workplace can still make a claim.
Worker's compensation also will not accept claims made by workers that intentionally hurt themselves or are injured while trying to harm or kill another person.
Employment Protections
State and federal laws bar employers from retaliating against an employee who files a worker's compensation claim. Employers are required to allow an employee to leave work for doctor's visits and physical therapy. In most cases, employers will be required to make short-term adjustments to working conditions for injured workers and are prevented from forcing an employee to work in a way that goes against the treating doctor's orders.
In some cases, employers will actively prevent or discourage employees from filing a worker's compensation claim. It is against the law for an employer to refuse to file a claim, or to delay filing a claim.
Retaliation can include harassing behaviors, comments and attitudes. A workplace injury is a disability, and employees covered by worker's compensation are also covered under state and federal employment discrimination laws. Retaliation might also include reducing hours, removing responsibilities and changing an injured employees title to a lower position.
Employers will sometimes fire an employee while they are on medical leave, even against a doctor's order. It is common for employers to find minor reasons that would otherwise not be a fireable offense to justify terminating an employee who has filed a worker's compensation claim.
The worker's compensation attorney's with the Law Office of Joel J. Kofsky should be contacted immediately if your employer has retaliated against you for filling an injury claim. Your rights are important and the personal injury attorneys will make sure you receive the compensation you deserve.
Claim Outcomes
A variety of factors can affect the outcome of a worker's compensation claim. Filing a claim in a timely fashion, correctly and completely, and not missing any scheduled doctor's appointments will get your case off to a good start. Most common reasons for rejected claims happen as a result of errors in filing.
Injured workers should not expect to get financial compensation for their injury. Worker's compensation is not punitive, and is intended only to prevent financial loss to workers who are injured on the job. Awards will focus on paying medical bills, physical therapy and needed devices, covering medications and other health care-related expenses. Additionally, worker's compensation coverage will pay a portion of lost wages due to workplace accidents.
A typical award will look at the long-term impact of an injury on a persons ability to work, and in some cases, an injured worker will be compensated for the potential loss of future earnings as a result of their workplace accident.
Injuries that are caused by negligence by the employer can sometimes trigger both a worker's compensation claim and an negligent personal injury claim, for which the injured worker may receive compensation for pain and suffering, along with much higher awards.
In virtually all cases, an injured worker who hires a lawyer to assist with their worker's compensation claim will receive better medical care and higher award amounts. In some cases, awards might be fifty percent or more above handling a claim without an attorney.
Our attorney's will consult with you about your case, free of charge, and will advise you on the best course of action. The workers compensation attorneys will make sure you are receiving the care and benefits you deserve and will fight on your behalf to ensure long term health and a speedy recovery.
Contact our Lawyers 24/7 for a Free Consultation
Should you Trust an Insurance Company With Your Claim ?
If you have been injured on the job, your world could be turned upside-down in a matter of seconds. In addition to physical pain, emotional stress, and a whirlwind of confusion, you will be asked to trust insurance companies—those same companies who have the goal of yielding profits—to handle all the costs associated with your recovery.
Sadly, insurance companies genuinely lack a true understanding of what recovery entails. They have a very clear idea about the costs associated with recovery, and because of that clear understanding, they know how to save money. Sadly, these savings most often come at the expense of other people's well being—especially those who have been injured.
The insurance companies will want to see you back to work or to see your claim expire in the shortest amount of time conceivable so that they can quit paying the bills associated with your work related accident. In addition, they will offer subpar treatment options in order to defer costs.
This is not to say that every insurance company will take a frugal approach to your recovery, but it is meant to show you that you are gambling with the thought of finding that diamond in the rough. After you have suffered an injury at work, you have two choices:
Trust the insurance companies or hire the right Philadelphia workmen's compensation attorney.
The latter is your best bet if you want to secure your family's financial stability in the aftermath of your work related injury. You will need time to appropriately recover. You will need adequate care to assure that your recovery is both timely and successful. And most importantly, you will need someone on your side to assure that these things happen.
Understanding Workmen's Compensation Claims
The way that a Philadelphia workmen's compensation claim is reported up through its approval or denial is a very complicated process. There is a lot of red tape, and some very strict guidelines that injured workers must follow to ensure that the claim is processed, and the appropriate funds are paid.
If you've been hurt on the job, it is in your best interest to hire someone who is familiar with the proper procedure immediately. If you do not follow protocol, which includes deadlines as short as 21 days for filing, you risk losing money that is not only rightfully yours, but money you will need to pay your bills while you recover. Furthermore, Philadelphia workmen's compensation claims are often denied. Hiring representation that understands the appeal process can help to ensure you that you are properly compensated for your time off of work.
Philadelphia Workmen's Compensation Law
The National Institute for Occupational Safety and Health has done extensive research with regard to workplace injuries. This research has led to many safety initiatives across the workplace. There is no doubt that safety precautions are in place, and both employers and workers do not want to see accidents happen. Sadly, mishaps do occur, and when they do, victims need a clear understanding of the many different types of Philadelphia workmen's compensation claims as well as what these claims entitle them to. The right legal team can make all of the confusing legal speak easy for you to understand. Simply put, the Pennsylvania Workmen's Compensation Act has been put in place to protect employees if they are hurt at work. In the event that you suffer from any type of workplace injury, you are entitled to "wage loss compensation" until you can return to work. There are several types of workmen's compensation claims that you can file in Philadelphia. These benefits include:
Medical benefits
Lost wage benefits
Lump sum settlements
Specific loss benefits
Death and dependence claims
An attorney who understand how you will best benefit from the different types of workmen's compensation as well as the timeline for filing such settlements in Philadelphia can assure you get everything you need to fully recover.
What You Need to Know if You Were Injured at Work in Philadelphia If you are hurt at work, your employer is required to pay your medical bills. While this may sound like a cut and dry solution to your injury costs, what you, as a victim, need to understand your employer is no longer on your side. His insurance company will dictate how all funding is spent, and it may not cover the doctors you wish to visit. Instead, the insurance company will try to control where you go in order to keep down its own cost.
Your medical bills have no bearing on your relationship with your employer as he too must follow what the insurance company dictates. If you've dealt with insurance companies in the past, you understand that they have protocol and procedures, and just like you cannot negotiate with them, neither can your employer.
Even if your employer wants to make sure that you get everything you want, he can't. The insurance companies control all payments. To complicate matters, there is the issue of your wages. While you are off work, insurance companies are required to pay lost wages.
Again, without the help of legal representation, they could easily cut your wages before you have fully recovered. This puts you in a position to either go into debt trying to stay ahead of your bills or to return to work prematurely and risk compromising your recovery. Hiring an attorney to see to it that your needs are met is not a metaphorical slap in the face to your employer. Furthermore, it should make you feel as if you are being disloyal to your company or your boss.
The injury you suffered is not in his hands—it is in the hands of insurance companies, and the best people to deal with insurance companies are attorneys. It's as simple as that. Remember, you need someone who you can trust to advocate for your financial stability while you recover from your work related injury. Your advocate should be someone who works solely for your, not for an insurance company.
The Pennsylvania Workers Compensation Act
This entitles many workers to compensation for illness or injury that happened while they were working, and it also provides death benefits to dependent spouses of workers who died from a job related incident. You may also be able to receive lost wage replacement if you could not return to work after your incident.
The Act dictates that all employers in the state must give their employees the protection of workers compensation. This includes almost every worker in Philadelphia and across the state, including employees of smaller businesses, nonprofit organizations, and unincorporated businesses.
The most common examples of workplace injuries occur on construction sites and in manufacturing jobs.
Common injuries involve issues with heavy machinery, slip and fall accidents, or illnesses from exposure to chemicals or particles.
However, the process of filing a workers compensation claim is often very confusing and complex.
That may even be the reason you are visiting this site. There are many different things that go into a workers compensation claim in terms of paperwork and evidence, so it is important to get in touch with a Philadelphia workers compensation lawyer as soon as possible if you think you may have a case.
Benefits of Filing a Workers Compensation Claim
The most common benefit of filing a workers compensation claim is to receive financial assistance for your medical bills that you incurred while treating your work related illness or injuries. Hospital and emergency room bills are often very costly, which can be an issue for many people, especially those who cant return to work to earn a wage. Compensation can be invaluable to these individuals.
Specific loss Benefit
Some workers are eligible for what is called a specific loss benefit, or a benefit that pays out a certain amount of money if a worker loses a body part or the use of a body part such as a leg, arm, hand, or foot, and it also includes people who have lost their hearing or vision.
Lost Wages Benefit
The benefit designated for lost wages is intended to help workers who cant go back to work for a while or at all if their injuries or illness are too severe. Because you cant earn a living if you cant go to work, the benefit will help replace those wages so that you can pay your new medical bills and keep up with your day to day expenses, such as rent or mortgage payments, food, gas, car payments, or utilities.
Death Benefits
The death benefit from workers compensation pays out a certain amount to spouses who were financially dependent on the money of a spouse who died in a work related incident. The death benefit can help cover the cost of a funeral and provide financial assistance to the surviving spouse.
How Common are Accidents On The Job
Accidents on the job are unfortunately not as uncommon as we would like to believe. They can occur in any kind of job, from a manufacturing job to a service or office based job. Construction or machine equipment accidents are fairly common, but something as simple as slipping on cleaning products or cutting yourself with a sharp box cutter can result in injuries on the job.
Someone mixing dangerous chemicals while cleaning can produce noxious gases that can poison workers.
These kinds of accidents can make illnesses you already have, like asthma, much worse. This especially happens in jobs involving chemicals or coal like in mining jobs. But it can often be very difficult to prove that these chemicals or particles made your asthma worse, a situation that can happen with any preexisting condition that is worsened by your workplace environment.
The general rule of thumb is that any disease or sickness had to have appeared within 300 days of working in that particular environment. For cases related to coal or silica particles, you had to have worked there for at least two years.
Don't be afraid of your workers compensation case.
Hiring your own lawyer to process your clam is the smart move
Our lawyers have handled workers compensation claims for twenty years in the Philadelphia area and will assist you throughout each step. If you keep track of your medical bills, records, and other information, we will help file your claim and ensure that the settlement you are offered will meet your needs.
Call our offices right away, because there is often a time limit within which you must file your claim. Our attorneys will get you the full compensation that you deserve for your work related injury or illness.